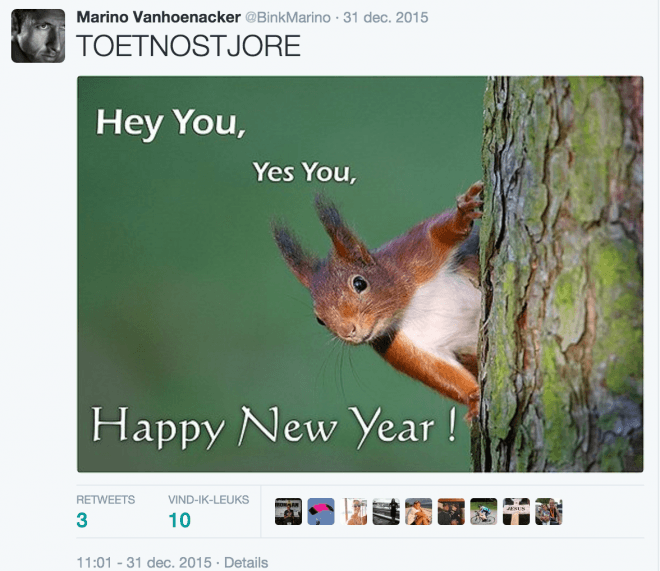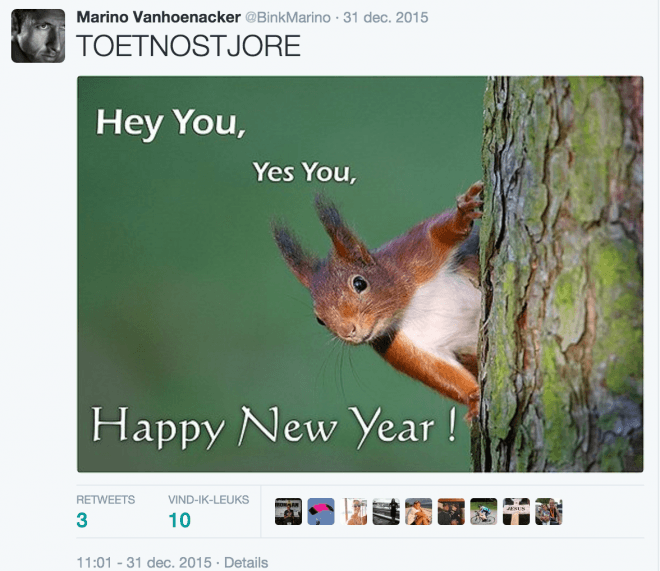 Vannacht was ons goede voornemen om in oktober 2016 weer richting Hawaii te trekken en er hopelijk weer van dichtbij de prestaties van de Belgen zo veel mogelijk tot bij onze lezers te brengen. Om maar te zeggen dat we met 3athlon.be een fantastisch jaar in petto hebben, met een paar mooie veranderingen, maar dat merken jullie zeer binnenkort vanzelf…
Gelukkig zijn we niet de enigen met goeie voornemens en dus presenteren we u hier een overzicht van de meest opvallende triatlon-nieuwjaarsberichten op Twitter:
We beginnen met Gwen Jorgensen die vanuit Australië het eerste nieuwjaarsbericht kon posten:
I have no idea what 2016 will bring but I'm prepared to train my little heart out ♥️🏊🚴🏃♥️

— gwen jorgensen (@gwenjorgensen) 31 december 2015
Claire Michel duikt op Instagram het nieuwe jaar in:
It will be an exciting year ahead and I'm ready to dive in! Wishing everyone a happy, healthy… https://t.co/rQYotZ3aJX

— Claire Michel (@ClaireMichelTRI) 1 januari 2016
Ben Hoffman trekt meteen de loopschoenen aan:
Happy new year! Lacing up the shoes for the traditional run with friends to ring in the new season. pic.twitter.com/vlr4RC2aV4
— Ben Hoffman (@bhoffmanracing) 1 januari 2016
Emma Pallant (het Britse talent van SMO-Specialized) pakte zelfs haar eerste overwinning van 2016
Starting NY wiv a win n even better wiv trainin bud @StuHayes13 bck! Thanks @serpentinerc @Teamdillon @NewBalanceUK pic.twitter.com/CkBo5DMDe8

— Emma Pallant (@EmmaPallant) 1 januari 2016
Bert Verbeke blikt nog even terug op zijn kilometers van 2015:
2015:swim=443km (165hr), bike=10421km (384hr), run=1905km (165hr) = 707hr sports a year…Happy 2016 #ironman #consistency @XCD_Tweet
— Bert Verbeke (@BVerbeke76) 1 januari 2016
Dat Sofie Hooghe het jaar inloopt met een smile is geen verrassing:
"Nothing you wear is more important than your smile!" #HappyNewYear pic.twitter.com/dGU3JqRKzO

— Sofie Hooghe (@SofieHooghe) 1 januari 2016
Ah ja, Sportoase, voor jullie hetzelfde 🙂
Sportoase wenst al haar leden, bezoekers, partners,… een fantastisch 2016!!
— Sportoase (@sportoase) 1 januari 2016
Michelle Vesterby viert nieuwjaar onderweg:
They tell you to jump into the New Year instead I jumped on a plane and into the pool at my favorite place Club… https://t.co/2j0vWMM5vG

— Michelle vesterby (@VesterbyTri) 1 januari 2016
Voor Chris McCormack zit nieuwjaarsdag er al vroeg op in Thailand
Watching the first day of 2016 come to an end! Breathtaking sunset… https://t.co/kv1Yddzjpl
— Chris McCormack (@MaccaNow) 1 januari 2016
Het enige katergevoel bij Will Clarke komt van de eerste trainingsrit:
Great first ride of the year with @iamroborr @ColinASturgess and @twiggstar. Didn't drink last night but feel hungover from Freddy patrol.

— Will Clarke (@Theclarke) 1 januari 2016
Levende legende Dave Scott zegt het met goud:
Can't believe 2016 is here. Happy New Year! pic.twitter.com/PDkadhkEdm
— Dave Scott (@DaveScott6x) 1 januari 2016
En bij Marc Herremans komen liefde, familie en vrienden op de eerste plaats, zoals altijd:
Happy New Year. Love, family, friends, health, joy and happiness. Enjoy 2016 ❤️ pic.twitter.com/vEii50UowN

— Marc Herremans (@marctri185) 1 januari 2016
Kenneth Vandendriessche legt de focus meteen juist:
<
Enjoyed last night, but now focus on 2016. #motivated #2016 #focus #girlfriend #love https://t.co/yJDTLyYAmE
— K.Vandendriessche (@KennethVdd) 1 januari 2016
De Nederlandse paratriatlete Saskia van den Ouden trainde gewoon door vandaag:
Lekker hardgelopen op mijn @NewtonRunningUK ging super! Goed begin is het halve werk, eerste training n feit💪 @ParatriathlonNL

— Saskia van den Ouden (@SaskiaOuden) 1 januari 2016
Wouter Bellemans doet het vanop de hometrainer:
Tradities zijn er om in ere te houden… #gett #triathlon… https://t.co/Ni60tH0u8e
— Wouter Bellemans (@WouterBellemans) 1 januari 2016
Voor Romain Guillaume is het een soort van under water love:
Happy new year !! 🎉 pic.twitter.com/9rHOxpq9wp

— Romain Guillaume (@RomGuillaume) 1 januari 2016
 Pieter Heemeryck wenst ons via het Domo-Scott team een geweldig 2016:
Gelukkig nieuwjaar vanwege het @Domoscottteam ! #harderbetterfasterstronger #triatlon #duatlon @3athlon_BE pic.twitter.com/it9zsGdlu9

— DOMO-SCOTT Team (@Domoscottteam) 31 december 2015
En Jonathan Brownlee is blij dat 2015 er op zit:
Last ride of the year ended with a double puncture. Looking forward to saying goodbye to 2015! pic.twitter.com/YddAr4dp0S
— Jonathan Brownlee (@jonny_brownlee) 31 december 2015
Ook Frederik Van Lierde loopt 2016 tegemoet:
Leaving 2015 behind and running into 2016 ! https://t.co/bF1ydREVXD pic.twitter.com/LoD5RwvQhx

— Frederik Van Lierde (@fvanlierde) 31 december 2015
En tot slot eentje van Marino Vanhoenacker, in 't Westvlomsch of wat dacht je:
TOETNOSTJORE pic.twitter.com/wv8guXJgbk
— Marino Vanhoenacker (@BinkMarino) 31 december 2015
Iets vergeten, Pieter?… Het overkomt de besten – deel 2
Als je een blunder begaat in de wisselzone, dan kost je dat niet alleen tijd in je triatlon zelf, dan…
Video: Beachstart in Hofstade
3athlon.be op Youtube
De opgegeven URL is ongeldig.